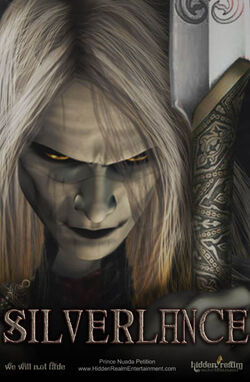 This trailer presents one idea of a prequel scenario imagined by Hidden Realm Entertainment, but if the prequel becomes a reality, the storyline would be from Guillermo del Toro and Mike Mignola.
Watch the trailer
Edit
Languages available :
How it was made
Edit
This project took 172 working days
Main track
Edit
Title: Spirit of Light
Purchased License: Standard License
Composer: Pierre Gerwig Langer (SESAC)
Publisher: Lynne Publishing (PRS - CAE#: 541626758)
Credits Track
Edit
Title: Once Upon A Time
Purchased License: Standard License
Composer: Adam Skorupa
Publisher: Lynne Publishing
Voice Clips
Edit
Luke Goss

Clip from Bone dry
Brett Hart/Sweat Equity Productions

Luke Goss/Andrew Pleavin/Simon Throp

Clips from Witchville
John Werner/Amy Krell/Syfy

Luke Goss

Clips from Hellboy II
Guillermo del Toro/Mike Mignola/Universal Studios

Luke Goss

Clip from One Night with the King
Mark Andrew Olsen/Gener8Xion Entertainment

Danu

Hidden Realm Entertainment
Chicago House (altered) - Barry Bujol
Magna Vertas (altered) - Andreas Johnsson Troll Runes - TTF Based on Hellboy II Troll Language
Programs used
Edit
Animation & Render: (free)Daz Studio 3.0 Daz Studio 3D
Mesh & Rigging: (free) Blender 2.49 Blender
UVMapper Classic UVMapper
Text: 30 trial Maxon Cinema 4D Maxon
Video: Sony Vegas Studio HD Sony Vegas
Audio: (free)Audacity 1.3 Audacity
Misc: Photoshop CS Flash CS3 Adobe
King Balor : David Custom Mesh & UV
Nuada : Hiro to David Custom Mesh & UV
Nuala : Aiko Custom Mesh & UV
Chamberlain : David Custom Mesh & UV
Mr. Wink : Daz Troll Custom Mesh Support
Elves : David Court Attendants Custom Mesh
Butcher Guards & The Freak Boggarts : Custom Mesh
Mom : Aiko Custom Mesh Danu ~ V3 Custom Mesh
Baby Nuala : Mil baby custom Morphs
Baby Nuada : Mil Baby Custom Morphs
Teen Nuala : Laura Custom Morphs
Teen Nuada : Luke Custom Morphs
Props and sets
Edit
A lot of Custom Daz Studio Renderosity Share CG.
Disclaimer, copyright and credits
Edit
Hidden Realm Entertainment is an informal group of friends with a common interest to promote the Prince Nuada petition. We respect the rights of the copyright holders. Under 17 usc section 107 of the Copyright Act (US), allowance is made for "fair use". We strive to abide by this Fair Use Act and will state our rationale as well as give proper attribution to all material. HBII Characters are not copyrighted by Hidden Realm Entertainment. We do not claim to own ANY of the characters, names, places or events associated with Hellboy II. All rights remain, as they should, with their original owners. No copyright infringement is intended or implied. NO profit is being made, asked for, or expected from this video. Nothing is redistributed.
Community content is available under
CC-BY-SA
unless otherwise noted.